XFG-YII New Model Automatic Stainless steel Premade bag filling machine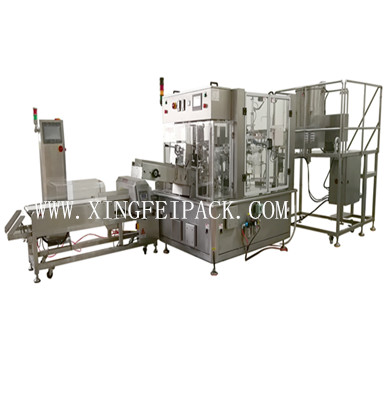 Speciation:
Bag type:
flat type or stand-up bag
Bag feeding type:
by standard bag feeding device
Packaging material:
OPP/CPP,OPP/CE,PET/PE heat sealable laminate material.
Packing process:
1) empty bag loading 2) ribbon (ink-jet printer) printer (optional)—3) bottom opening 4) top opening 5) first filling 6)second filling 7)heal seal (air exhaust) 8) cooling and discharge
Machine adopts motor driven and indexing Gear Box as mechanical transmission, each station works synchronously at the same time. Running stable , easy maintenance ,long life with low error rate.
Vacuum bag opening, there is vacuum pump and vacuum tank inside the machine , to ensure the stable running.
Different bag width could be adjusted within machine range, bag holder width at each station can be adjusted by the motor driven. Can adjust on the touch screen directly , no need manual mechanical adjust.
Equipped with various intelligent detection method.
Safety door and switch, follow the EU CE safety standard.
Water-proof for the working station
Error Self- diagnose ,error information displays on the touch screen,
Follows the sanitary standard ,easy cleaning, can use water to clean.
Excellent electric and pneumatic parts, ensures machine running stably, realize high-efficient, low error rate batch production.
Suggest water-proof type 316 for the industry with high sanitary requirement which will wash the machine or the product is corrosive, and will work at bad working environment like cold storage warehouse.
All exposed machining parts and sheet metal parts ,including and frame , all adopts SS316 to ensure absolute anti-rust and corrosion.
The supporting pillar and plate inside the machine cabinet adopts SS304( non-contact parts),except the parts could not use stainless steel( like Transmission parts as: transmission shaft, cam, gear etc.)
Working station all with water-proof treatment, can be washed by normal tap.
Electrical control box is mounted on the top of the machine with water proof treatment, can pour water from the top to clean but use water gun spray from various angle is not allowed.
Technical Para
Model No.

XFG-YII

Pouch Size

Length

180-350mm

Width

120-250mm

Speed

20-45ppm (depends on the product characteristic and filling volume.)

Pouch material

Laminated film

Pouch pattern

flat bags , stand up pouch

Main Driving Mechanism

indexing Gear Box

Bag Gripper Adjustment

Adjustable on Screen

Safety Device

1. No bag—no filling – no sealing
2. bag failed to open or not open well- no filling –no sealing
3. heating device error alarm
4. Auto-stop below set pressure
5. Auto-stop when the safety hood or electrical control cabinet door open.
6. safety door and switch
7. bags failed to open can be circularly used (optional)

Power

380V,3phase,50Hz,3.8kw

Air Consumption

300N liter/min, 6kg/cm²